As 2017 winds down and I look forward to what we (our company) have on our horizon in 2018, I started reflecting on where I came from to get here, how I got here, and even why I got here. That has been a lot for me to digest, but I guess as you get older there is more of a tendency to do this. Because you realize more of your life is behind you instead of in front of you. And you wonder if what you have been doing all this time is worthwhile, fruitful, and even has meaning. And so, you try and make damn sure you take advantage of the time you have left, right?
I grew up in a large family, but usually lived like a loner. I enjoyed being by myself and had a vivid imagination. So it was easy and natural for me to make up stories in my head. It wasn't until years later, in junior high and high school that I attempted to put them to pencil and paper. Those early ones were terrible, as I just couldn't seem to get what was in my head down on paper like I wanted it to be.
And then in late high school I started writing poetry, and by college I had some of it published. I literally had a huge notebook with several hundred poems. In college I also started writing movie reviews and critiquing art exhibits for the college newspaper. It was then that I started wondering about writing for film, which sparked taking some film classes even though I was in the English department.
In the late 70's I got involved with the Austin Community Movie Company, which was a small school that had classes in screenwriting, acting, production, and editing. They also did their own productions and I got involved in those. I took classes in all those areas, with the intention of focusing on screenwriting. But I actually think I learned the most when I volunteered to operate the camera for the acting classes. I got to watch directors and actors work together and flesh out scenes. I would get to operate the camera and record the sessions for everyone to go over and learn from. Little did I know then, that years later I would be working with actors in a similar way.
I wound up working on a few student films, until the film "Blood Simple" by the Coen brothers hit town. I got to be an extra in a couple scenes for a couple days, and then worked as a PA for a few days. It was at the same time that I started writing my first feature screenplay, which was a daunting undertaking for me then. I remember being on set one night, reading the "Blood Simple" script, and realizing how far I had to go to write a 'filmable' script. But I caught the bug and moved forward.
After that I studied as much as I could about screenwriting, taking as many classes and seminars as possible, and reading as many screenplays as I could. By 1986, I was writing my fifth screenplay. I mention that year, because that was the first time I was ever hired to write a screenplay. It was a mixed experience (I wrote about it in a previous blog entry — http://waytogomedia.com/losing-my-virginity).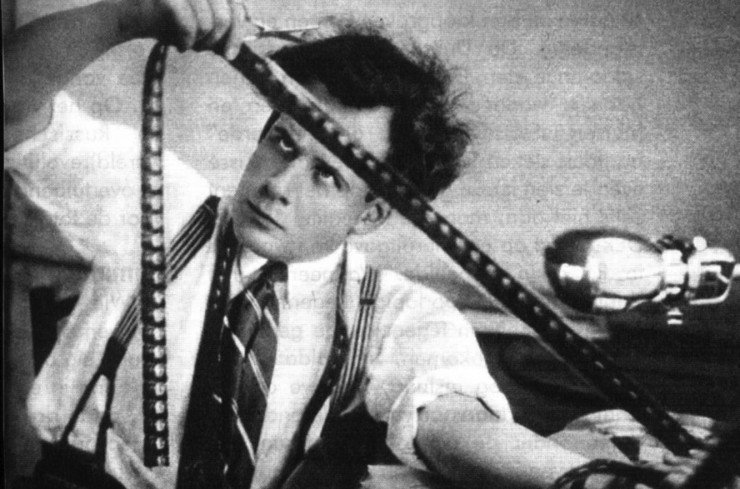 The following summer I found myself in L.A. searching for my silver screen pot of gold. I was married with a 3-year-old son and my wife pregnant with our second. Talk about taking the leap … it was a risky one. Luckily, I got a position at a major studio in the financial department as my day job, while I wrote at night and on weekends. I found myself quite exhausted much of the time.
Over the next six and a half years I got hired six different times to write scripts for producers/production companies and I had seven of my original screenplays optioned by production companies. So many times these projects approached production, but every time something happened to thwart them. Maybe financing fell apart at the last minute, or talent backed out as we started pre-production, or a distributor decided not to pick it up. And on and on. And other times, as the writer I never knew exactly what happened, because writers have no power and usually nobody tells you what happened. So I became another one of those writers who collected checks for dong the work, but never any screen credits because they never reached that hallowed silver screen. Development hell really was hell. I came to learn that this situation is more common than I realized. They say that for every 100 projects a studio develops, only about 8 to 12 of them ever reach production.
I was also lucky enough to be involved in projects at a production level, at various different crew positions and got to experience filmmaking from different perspectives. But as the years passed by and being forty got farther in my rearview mirror, the phones started dying down, as far as being hired to write. Ageism was (and is?) alive and well in Tinseltown. If you hadn't made it by 40, there wasn't much chance after that, so they say.
Then as I approached 50 and the new wave of indie films starting creating other opportunities, I decided to reinvent myself and just greenlight myself. At this time, I also realized that I had not played the networking game well enough in Hollywood. I had never been good at that, and I wonder if I had perfected that skill would any of this been different? Oh well, moving on …
I began writing a script for an indie film that I could be shot on a modest budget. At that time I had no intention of directing it myself, but after searching for the right director I realized that person was myself. I took whatever director classes I could find, and also directed several shorts. And at 55, I directed my first feature, which was also my own screenplay. It was an experience of a lifetime, and I have been chomping at the bit to direct another one. Possibly that is around the corner? Can a new 2018 year promise anything? Going forward, we shall see …
JAD
Writer – Director – Producer of Way To Go Media, LLC.
Over the past thirty years Jerry has been hired numerous times to develop and write screenplays for other production companies. During that same period several of his spec scripts were also optioned. 'Dreams Awake' was Jerry's feature directorial debut. He has several other projects in various stages of development. One of which, the feature documentary 'The Inner Sonic Key' is currently in post-production.
Comment With Facebook
comments